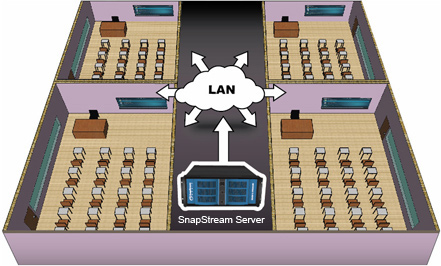 On Tuesday, July 14th, join us for our web seminar geared towards K-12 schools looking to stream television to the classroom.
The SnapStream Server is a DVR appliance that allows schools to distribute television using their existing LAN, projectors and electronic whiteboards, eliminating the need for expensive RF cable drops, traditional TVs, VCRs and DVRs. In addition, the SnapStream server gives you the flexibility to record anything on TV, from PBS to Discovery to the History Channel to CNN. And unlike Safari Montage or Discovery Streaming, the SnapStream Server does not come with any expensive subscription fees.
Using educational TV programs in the classroom, teachers can reinforce and expand on material being taught and increase student interest in learning. SnapStream makes TV useful to educators in entirely new ways — using SnapStream's easy-to-use TV search technology, teachers can pinpoint relevant TV content themselves and then easily create clips and download for use in their class curriculum.
Attend our web seminar to learn more about providing your teachers with a valuable new teaching tool - the SnapStream TV Server.
Web Seminar: Stream TV to the classroom over the LAN
When: Tuesday, July 14th; 2:30 CST
Sign me Up!