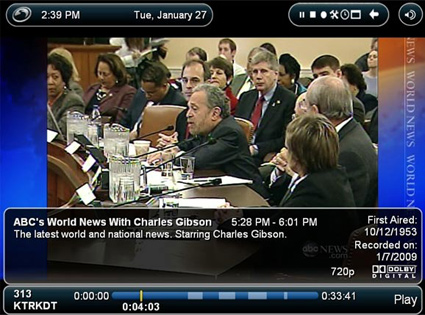 The SnapStream development team is happy to announce availability of the 4.9.1 release for SnapStream Server customers. Much of the work was performed "under the hood," but there are a few big new features as well, among them:
Clear QAM support
StreamSnip
PlaceShifting
Clear QAM Support (plus StreamSnip)*
We did a complete overhaul of our HD recording system to include the ability to capture Clear QAM cable broadcasts. This part gets a little technical, but stay with me.
The demultiplexer (the part that splits the video from the audio so they can be displayed), was only written to support ATSC formatted transport streams in previous versions. QAM is a close cousin to ATSC, but instead of simply tacking it on, we completely re-wrote the demux, making it faster and better at handling bad signals. Additionally, we added the ability to play the secondary audio streams that could be stored in the digital streams.
While we were at it, we implemented StreamSnip, to pull the 38mbit/s bitrate of QAM down to only the size of the stream that you wanted to capture (5-16mbit/s depending on the content).
To allow the feature to be used, we added a number of pages to the Setup Wizard, implementing what we think is the best QAM setup procedure in the market. This setup shows you the QAM channel side by side with program guide data, helping ease the mapping process.
*Please note that QAM is only available to the Digital 5 tuner version of the SnapStream Server. The tuner cards in analog capture systems aren't able to grab the digital data. So, the Digital 5 Tuner version now allows you to search and then clip QAM and ATSC broadcasts: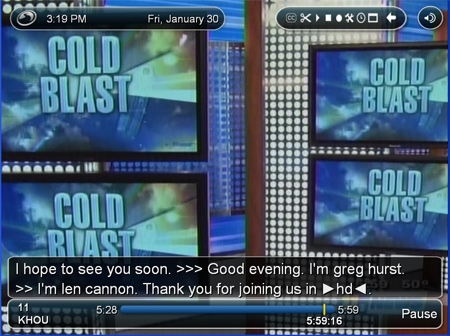 PlaceShifting
The second large feature added is the limited availability of PlaceShifting. For the uninitiated, PlaceShifting is a way to stream any recorded content to any computer on the internet. The bandwidth of the remote computer is checked and then the video is streamed in the appropriate format and bitrate.
Other Stuff
As always, we added tweaks here and there to improve functionality of the Server. Some highlights:
Auto-Expiration is now available for individual programs (rather than at a system-level)
Recordings can now be tagged with the name of the user that scheduled them
iPhone and iPod Touch 2.0 video recompression is now supported
Startup speed of the Scheduler and Library is improved
Enterprise TV release 4.9.1 is available immediately to all SnapStream Server customers.