The SnapStream's TV Alerts feature allows you to save keywords and have your SnapStream Server (or SnapStream Mini) automatically search all of your TV recordings for them; you'll get an email with results on a real-time, daily or weekly basis - you choose the frequency. If you've ever used Google Alerts, think of this like Google Alerts but for traditional television.
So let's say you want to track all mentions of your organization. Simply type in the keyword, and anytime your organization is mentioned on your recorded channels, an email will be sent to you showing you the transcript of the video along with a link to the particular part of the video where it was mentioned. It's as easy as that!
For example, let's say you're in charge of press for the City of Houston and you want to track all mentions of The City of Houston or Bill White (our mayor) on the local news, you could set up an automatic search for the keywords:
"city of houston"
"mayor white"
"bill white"
and have the results emailed to you: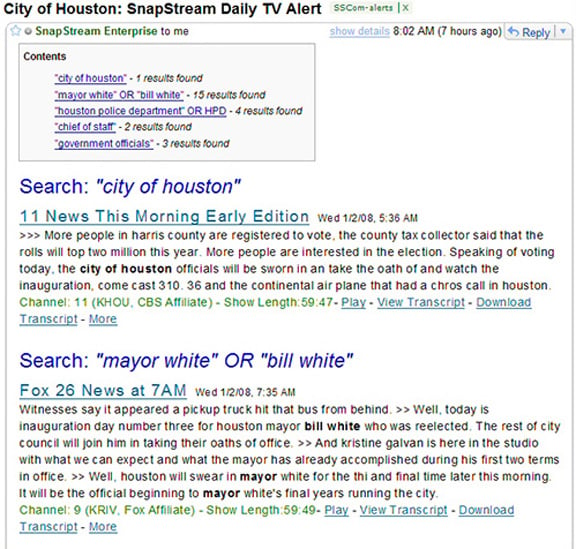 With the "real-time" frequency option, you can get an email the moment a mention occurs so there's no time lost in responding to an important media mention. You can even track "breaking news." For example, recently, The San Jose Police Department was able to react immediately to an incident involving a cow and a train (?) thanks to SnapStream's as-it-happens email alerts!
Once you've found stuff you're interested in, you can click the link to watch the video and then create clips, email clips to other people within your organization, or even synchronize those clips to your iPhone or iPod so you can watch them while you're traveling. And unlike clipping services and media monitoring services, you can create an unlimited number of high-quality TV clips without any incremental cost.
To learn more, see this in-depth YouTube video on SnapStream's TV alerts function: