The Las Vegas Convention center is huge at 3.2 million square feet and while at the National Association of Broadcasters show in Las Vegas, SnapStream only occupies 100 sq. ft. of that space. And based on feedback from visitors last year, we know that the SnapStream booth was hard to find.
Hopefully this year we're easier to find simply because we're not as far back in the South Upper Hall as we were last year (many thanks to our contact at the NAB, Joy Lindsey!):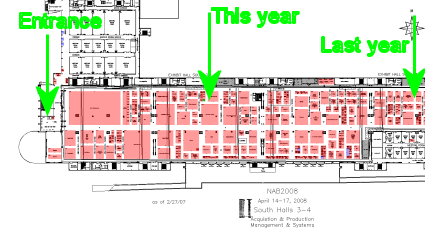 But, we still wanted to make it easier for you to find us so here are some maps and directions.
Directions to SnapStream at NAB2008:
1. Get to the South Hall of the Las Vegas Convention Center (veterans of the Las Vegas Convention Center will know that this is on one end of the convention center, furthest away from the Hilton and the North Hall)
2. Take the escalator up to the South Upper Hall
3. Walk down the main corridor of the South Upper Hall (you'll pass massive booths from companies like Sony and Motorola)
4. When you see the Ross Video booth, hang a left.
5. You'll see us on a corner to your right -- our booth number is #SU6008.
See you at NAB!